Pigeon Point, Trinidad and Tobago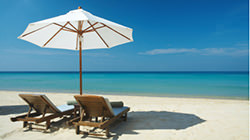 The smaller of the two main islands that make up the Republic of Trinidad and Tobago, 41-kilometer-long Tobago boasts an endless procession of gorgeous beaches.
Here, what is reportedly the world's most photographed jetty juts out into the glistening sea. The beach is carpeted with powdery white sand, perfect for beach volleyball. In the distance, almond and coconut trees sway in the breeze.